Poorly fitted bras, pain and Chiropractic treatment

Poor Posture, Bra Fitting and Chiropractic
Would you wear shoes that are too tight? An estimated 70% of all women are wearing poorly fitted bras, resulting in poor posture that can cause painful backs, necks and shoulders, bumps and bulges, and headaches.
Tugging, pulling and adjusting your bra straps can often be a sign of more than simple discomfort.
A recent survey found:
that although comfort was the most important factor when choosing a bra in 87% of the women asked,
59% of women admitted to their bra not fitting properly,
and 41% agree their bra doesn't provide correct support.
Read more about how you can assess if your bra has been fitted correctly.
When Did You Last Have Your Bra Fitted?
Most bras don't stay the same size with repeated wear and washing, and are expected to stretch up to as much as 4 inches over time.
In addition, the right size for you from one manufacturer may not be the same for all brands.
A surprising number of women have never had a proper bra fitting, and have ended up buying the wrong sizes for a long time.
When did you last have your bra-fitted?
Poor Posture Due to Badly Fitting Bras
Many experts have already linked badly fitting bras with poor posture and spinal problems, as well as breathing problems, abrasions and breast pain, which can potentially be more acute in large breasted women.
As well as dealing with the extra weight, it is common that large breasted women tend to feel self conscious about their cleavage and try to minimize it by rolling the shoulders forward.
This will contribute to poor posture by affecting the muscle tension in the chest muscles (pectorals) and cause weakening of the postural muscles at the back.
If you tend to bend forward as well because of insufficient breast support, the trapezius muscles over stretch, and can lead to headaches because the muscles are being constantly strained.
Is Your Bra the Right Size?
The survey found that the majority of women simply don't know what to look for, with the most common errors being cups that are too small, and bands that are too loose around the back.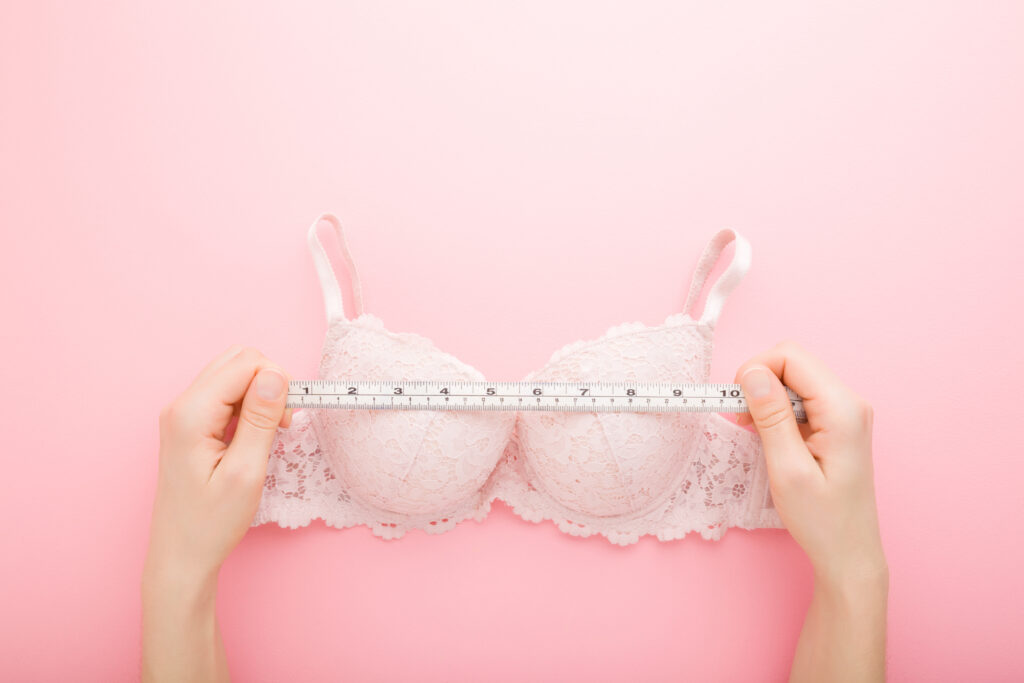 How Can I Check That My Bra Is The Right Size?
A few simple tell-tale signs can tell you if you are wearing the correct bra size:
Lift your arms up above your head to see if the bra is tight enough. The underband should fit snuggly against your body so that it does not slide during normal activity. If it doesn't, this could be a sign that the underband is too loose. The underband provides the majority of support for the breasts (80%) with the shoulder straps providing just 20%. If the band at the back is too loose, it causes the shoulders to carry the weight of the breasts instead of the back. Experts say the back band should be in between level with the underwire and an inch and a half below the underwire line.
Temporarily lower your shoulder strap from your arm. If they are digging in, this could be because the underband is too loose and you're over adjusting the shoulder straps to feel supported.This causes the bra to ride up at the back, giving another sign that the underband is too loose. Alternatively, if the red marks are around the rib cage where the underband sits, and the cups or underwiring is digging in leaving red marks, this could be a sign of a bra that is too small.
It has been found that bras that are too tight can cause lesions or lumps of the skin – commonly called lipomas. These can be caused by hooks on the backs of bras digging into the skin.
Does the centre panel of the bra lie flat against your body? If not, it could be due to the cups being too small. If you have bulges over the top or side of the bra, it could also be that you need to go up a cup size.
The back straps should be parallel at the back. If they are not, this could be a sign that the bra band is too small and is over stretching.
Industry leaders recommend that you have an annual bra-fitting as your breast size is likely to change with both weight gain and loss, and hormonal changes such as menstruation and pregnancy
What Type of Bra Should I Look For?
Ideally, you should look for bras with wide, load bearing, soft and cushioned shoulder straps to ease pressure and stop them from digging in. Moulded non-stretch cups provide the best breast support, without underwiring.
Buy a bra where you can adjust the shoulder straps to fit your shape. Two or three bra fastenings hooks provide greater support. The back of your bra should be across your mid back for support.
Free Bra-Fitting at ISIS Chiropractic Centres
If in doubt, we do regular bra fitting sessions with help from a local professional bra fitter.
We can also help you improve your posture and relieve pain related to posture.
Please contact us, for more advice.